Updated - Friday 26 March
We know that during the coronavirus outbreak, our communities will rely on us now more than ever to keep them safe and warm. The safety of our communities and our employees will remain our number one priority in the weeks and months ahead.
We need to carry out safety-critical work to upgrade the gas network in your area. This needs to go ahead now, rather than wait until the pandemic passes, to ensure your local community continues to receive a safe and reliable gas supply.
Our project involves the essential replacement of old metal gas mains with new plastic pipe to ensure we continue to provide a safe and reliable gas supply to the local area. Our contractor, Forefront Utilities, are undertaking this work on our behalf. The first phase of this project is due to be completed by Monday 29 March.
As is sometimes the case with projects of this nature, it can be necessary to change the plans once initial excavation has begun due to unexpected engineering issues. In view of this we have needed to amend the timescale, plan and traffic diversion route.
In close consultation with the London Boroughs of Sutton and Merton, the next phase of our project will start on Monday 29 March as soon as phase one finishes.
This next phase is a combination of the original second and third phases and will be followed by our fourth and final phase. The project is now expected to be completed by the end of June.
Phase two/three– starting Monday 29 March for approximately five weeks
Our engineers will be working on the roundabout at the junction of Beddington Lane with Coomber Way.
To ensure the safety of everyone around the work site it will be necessary to close Beddington Lane from Jessops Way to the roundabout at Coomber Way.
Access to Jessops Lane will be maintained from the North of Beddington Lane. The traffic speed limit will be reduced to 20mph from just north of the Tram crossing to the road closure.
The two bus stops in Beddington Lane between Elberon Avenue and the roundabout with Coomber Way will be suspended.
Bus stops at this location will need to be suspended.
A diversion route will be in place.
Media library image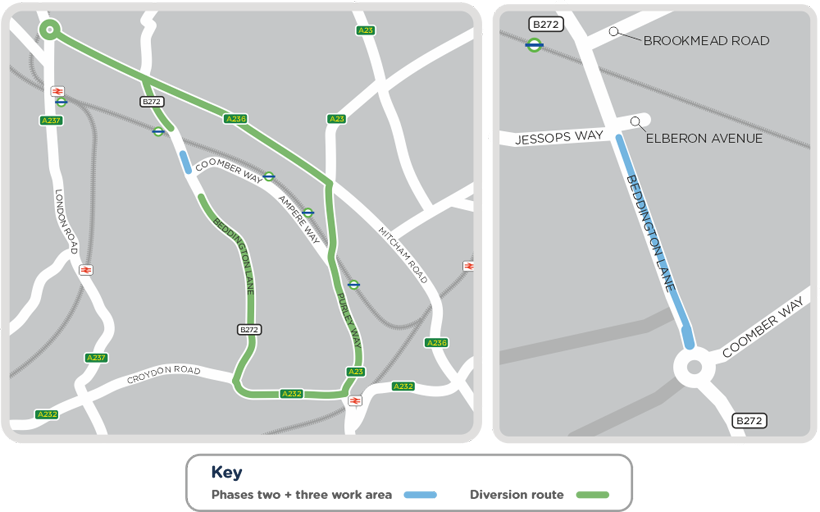 Phase one – due to end Monday 29 March
Our engineers will start work in Beddington Lane (B272) between the junction with Brookmead Road and outside Elberon Avenue.

For everyone's safety Beddington Lane will be closed at the junction of Elberon Avenue and Jessops Way.

A signed diversion will be in place via Purley Way, Mitcham Road and Croydon Road.

Access to Jessops Lane will be maintained from the south of Beddington Lane. However, we will need to install temporary traffic lights in Jessops Lane and Beddington Lane to manage traffic flow.

The speed limit around our work area will also be reduced to 20mph.

The two bus stops in Beddington Lane between Elberon Avenue and the roundabout with Coomber Way will be suspended.
We're working closely with UK Government and public health bodies to make sure we work safely and in line with expert advice during the coronavirus outbreak. We have extra safety precautions in place to protect our colleagues and our customers from catching or spreading the virus as we carry out our safety-critical project.
We understand that people can get frustrated by roadworks. However, the new plastic pipe has a minimum lifespan of 80 years. This means that when the work is complete, local residents will continue to enjoy the benefits of a safe and reliable gas supply for years to come.