We know that during the coronavirus outbreak, our communities will rely on us now more than ever to keep them safe and warm. The safety of our communities and employees remains our number one priority.
For this reason, and following the latest Government advice to stay at home, we're making changes to our usual ways of working. At this time, we'll only be carrying out safety-critical and emergency work to our gas network.
This means we'll be postponing our planned network upgrade work in the Raeburn Place area.
We're in the process of winding down our planned upgrade projects in a controlled way to ensure people and sites are safe, and our network is secure.
We'll continue to provide our 24-hour emergency service across the south of England and Scotland during the coronavirus pandemic. Our engineers will continue to attend properties and make the situation safe, as always. We have extra safety precautions in place to make sure our customers and colleagues are protected from catching or spreading the virus.
As soon as we're able to restart our gas mains replacement project in Stockbridge, we will update this page.
We appreciate your understanding during these challenging times.
Start date: 6 January 2020
Approximate duration: 30 weeks
We're investing £2.2 million to upgrade our gas network in the Stockbridge area of Edinburgh and the first section of our project will begin on Monday 6 January.
This essential work involves the replacement of our old, metal gas mains with new plastic pipe to help ensure a continued safe and reliable gas supply.
In agreement with the City of Edinburgh Council and other local authorities, our work in the Raeburn Place area will begin on 6 January and take approximately 30 weeks to complete. Road closures and temporary traffic lights will be in place at different times throughout our project, but we've split the work into two phases to minimise disruption.
Update: Tuesday 10 March
Our work in Raeburn Place is still on track and progressing well. 
We've been carrying out additional work to our network at the junction of Hamilton Place and Kerr Street due to an emergency. This work is almost complete and the temporary traffic lights in place at the junction will be removed by Monday next week [16 March].
A section of our new plastic pipe has now been inserted in to the old metal pipe in Raeburn Place. Because we've completed our work in the narrowest section of the road, the Lothian Bus service will become available to those travelling eastbound from Tuesday 17 March. The temporary Stockbridge Shuttle service we were providing will run until the evening of 14 March.
Thanks again to Stockbridge residents and business owners for your continued patience and understanding while we complete our essential work.
Update: Monday 17 February 
Now we're in phase two of our project in the area, standard-sized buses are unable to travel safely past our work area, meaning the bus service isn't running eastbound along Comley Bank Road and Raeburn Place.
To ensure that transport is still available eastbound along the road as planned, we are going to be supplying a free bus service from tomorrow morning, which will be available until we've completed our work.
The Stockbridge Shuttle will run between 8.30am and 5.30pm Tuesday-Saturday and will visit each stop on the route three times an hour.
Media library image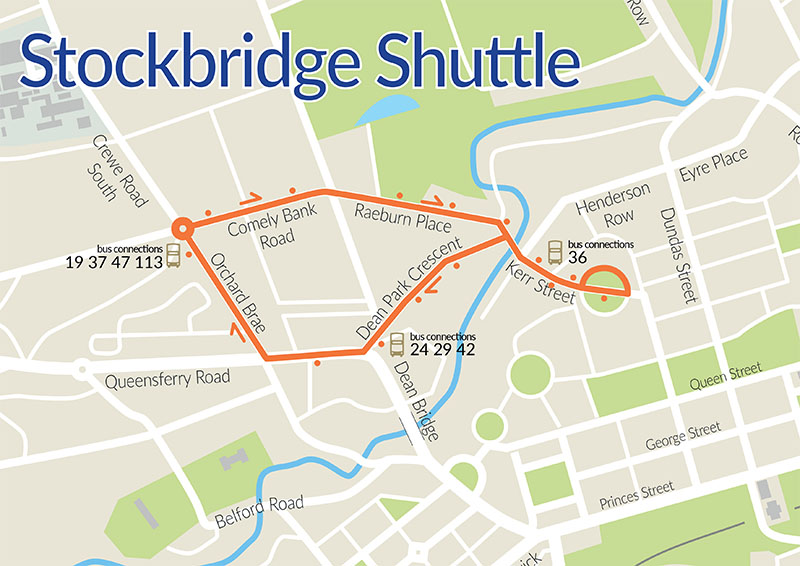 Update: Monday 10 February
Phase one of our project in Deanhaugh street was completed over the weekend and our engineers have now started work on phase two in Raeburn Place. 
Raeburn Place will be closed to westbound traffic for the duration of phase two and a signed diversion route will be in place for motorists. Buses travelling westbound will also be following diversion routes.
Some parking restrictions will remain in place but pedestrian access to Raeburn Place will continue to be available at all times.
We'll also have temporary traffic lights in place in Deanhaugh Street at its junction with Hamilton Place for roughly two weeks.
Update: Tuesday 14 January 
Phase one of our project in Deanhaugh Street is progressing well and our engineers have nearly completed work in the bridge, meaning we can progress further along the road. 
From Sunday 19 January, we'll be working between Leslie Place and Dean Street and our signed diversion route for motorists will remain in place.
We'd like to thank Stockbridge residents and businesses for the support we've received so far whilst carrying out complex engineering work to upgrade our gas network.
Media library image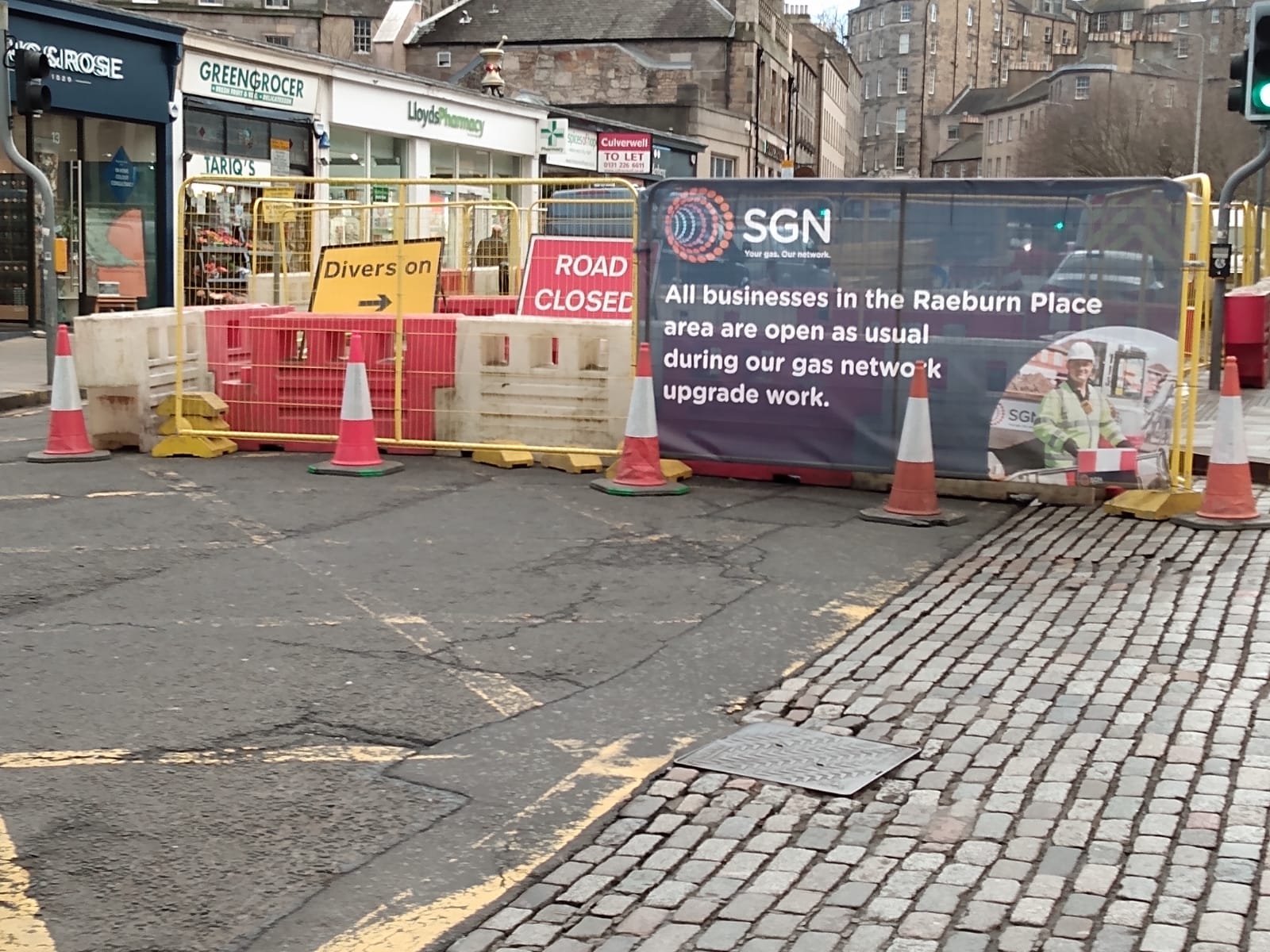 Phase one – approximately eight weeks
Our project will start in Deanhaugh Street on 6 January. The road will be closed and a signed diversion route will be in place for motorists. We'll also have temporary traffic lights in place at the junctions with Hamilton Place and Haugh Street for approximately four weeks.
Phase two – approximately 22 weeks
Our engineers will then progress into Raeburn Place and the road will be closed to westbound traffic for the duration of this phase. A signed diversion route will be in place for motorists.
Media library image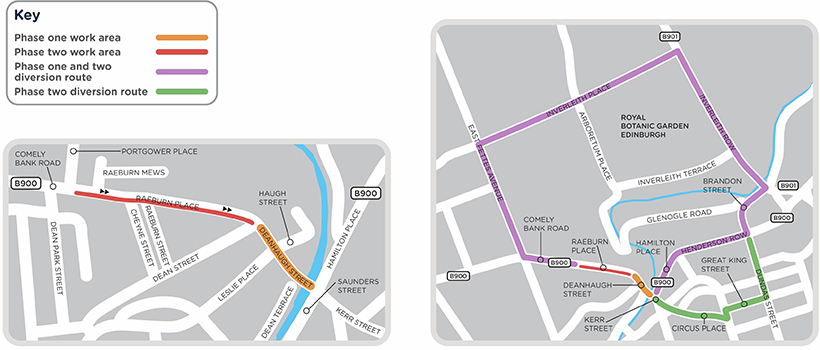 For the duration of our project, there will be restricted parking on Deanhaugh Street and Raeburn Place. Other parking suspensions will be in place at times in surrounding streets. We'll have a dedicated person onsite throughout our project to help co-ordinate bin collections and deliveries for businesses.
If you have any enquiries about our project in the Stockbridge area, please call us on 0131 469 1718 during office hours (8am to 4pm, Monday to Friday), or on 0800 912 0804 outside of these times.