A world-first green hydrogen-to-homes heating network on the Fife coast.
Central heating is responsible for up to a third of the UK's greenhouse gas output: a challenge that must be solved if we are to meet the legally-binding net zero targets set by the UK Government and Scottish Government. Switching carbon-emitting natural gas for hydrogen, which doesn't produce carbon when it burns, is one of the ways that we can keep homes and businesses warm and safe while making ground in the fight against the climate emergency. 
The project
On the east coast of Scotland, our H100 Fife project is laying the foundations for this change while giving residents in the local area the opportunity to be at the leading edge of the low-carbon economy.
We're developing a world-first hydrogen network in Buckhaven that will bring renewable hydrogen into homes in 2023, providing zero-carbon fuel for heating and cooking. In the project's first phase, the network will heat around 300 local homes using clean gas produced by a dedicated electrolysis plant, powered by a nearby offshore wind turbine.   
The project is the first of its kind to employ a direct supply of clean power to produce hydrogen for domestic heating – putting Fife at the forefront of the clean energy revolution. 
The system will be designed and built to ensure the same high safety and reliability standards expected from the current gas system. An on-site storage unit will hold enough hydrogen to ensure supply won't be disrupted during even the coldest weather conditions.  
Media library image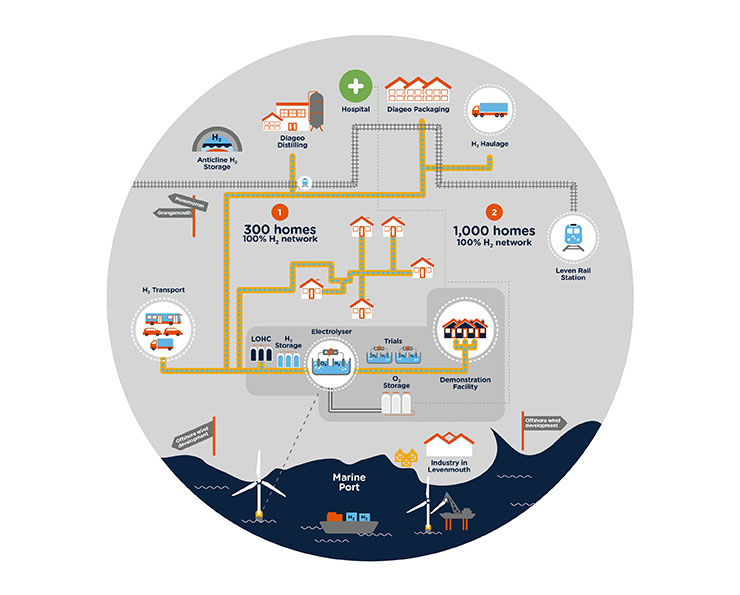 Information for residents
H100 Fife will also play an important insight-gathering role into customer appetite and interest toward hydrogen and low-carbon heating solutions. 
The project will give people in Levenmouth the opportunity to be at the forefront of research into hydrogen heating systems. Eligible households can participate on an opt-in basis, meaning they will have the choice to switch to hydrogen, or remain with their existing natural gas supply. A proposed demonstration facility will allow customers to see and experience hydrogen appliances in a home-like setting prior to opting in. 
The initial 300 customers joining the project will receive a free hydrogen connection, free replacement hydrogen appliances and free maintenance over the length of the project. They will pay the same amount for hydrogen gas as they would pay for natural gas. 
Timeline
Plans for the project have been approved by Ofgem and pending local partner approval we'll be ready for construction to begin in 2021. We'll keep the local communities in Buckhaven and Methil informed throughout development and customers will be invited to the hydrogen demonstration facility in 2022, ahead of the hydrogen network going live in 2023. The project will be operational for 4.5 years until March 2027. 
Clean energy combination
The emergence of wind power as a large-scale source of clean energy is a key part of the hydrogen growth puzzle. It provides the scale necessary to generate large amounts of clean power needed for electrolysis – the process that creates hydrogen.
When powered by renewable energy, the generation and burning of hydrogen produces no carbon, making it the most effective, scalable way of providing heating while fighting climate change. It's a clean energy combination that could put Scotland and the UK on track to hit net zero by 2045 and 2050 – and it all starts here, in Levenmouth.
Gas Goes Green
H100 Fife is part of Gas Goes Green, the industry blueprint for cutting out carbon emissions. We're working in partnership with the Energy Networks Association (ENA), National Grid, Cadent, Northern Gas Networks and Wales & West Utilities on a number of groundbreaking innovation projects aiming to develop a safe, smart gas system that delivers clean heating to homes and businesses.