To show how our Environment Strategy commitments fit into the bigger picture, we've aligned our activity against the UN's Sustainable Development Goals (SDGs).
Designed to be a blueprint for a more sustainable future, the 17 SDGs were set and agreed by world leaders in 2015. They address global challenges around inequality, poverty and climate change, and comprise 169 targets for governments, businesses and organisations to strive towards. As the gas network for Scotland and the south of England, we're committed to building a hydrogen economy for the UK that benefits everyone, while contributing to the SDGs wherever we can.

Download our 2021 report, Our progress and commitments towards the United Nations Sustainable Development Goals, or read on to discover how we're contributing to our eight priority global goals. 
Goal 3: Good health and wellbeing
This goal aims to ensure healthy lives and promote well-being for everyone, regardless of age.
One of the key ways we support this is by offering free locking cooker valves to at-risk customers: by temporarily stopping the gas supply to the cooker, these devices lower the risk of accidentally turning or leaving the gas on.
We've also trained almost 100 employees to become mental health supporters, launched a project with the University of Surrey looking into the effects of fatigue, and delivered gas safety awareness sessions to around 3,780 pupils in 22 schools.
Goal 5: Gender equality
Achieving gender equality and empowering all women and girls is the aim of this goal.
Diversity and inclusion matters to us: it helps us understand our customers and workforce better, increases innovation and creativity, helps us attract and retain the best talent, and makes this a great place to work for everyone. We've been working hard to create a more gender-balanced company, and our Operational Insights Programme has given female colleagues the chance to spend time on Operations teams, opening up fresh career paths into roles with a traditionally male-dominated workforce.
Our RISE programme helps women boost their skills in management – "[it] gave me the opportunity to develop my confidence, leadership skills and build a network of valuable business contacts," says Louisa, a project manager who completed the 2019/20 programme. One cohort has successfully completed the programme, with a further 15 colleagues taking part in the second in 2020/21.
We're also responding to the "STEM gap" by working with Solutions for the Planet (S4TP), a non-profit that delivers community engagement programmes encouraging young people to explore opportunities and careers in STEM. We've been a key strategic partner of their Big Ideas Programme for the past six years, boosting its impact in Scotland and southern England and reaching up to 4,000 young people each year.
Goal 7: Affordable and clean energy
Ensuring access to affordable, reliable, sustainable energy is at the heart of this goal.
To do this, we're prioritising green hydrogen (hydrogen made with renewable energy) in our planning for the UK's future gas network. Our pioneering H100 Fife project will be the first of its kind to use clean offshore wind power to produce hydrogen for domestic heating. It's due to begin construction in 2021, and will provide 300 homes with decarbonised heat, putting the coastal conurbation of Levenmouth at the heart of the clean energy revolution.
Goal 8: Decent work and economic growth
We're continuously working to deliver inclusive and sustainable economic growth and decent work for all. In addition to our gender pay gap reporting, apprenticeships and commitment to upskilling, we're also supporting women take on new operational roles through the RISE development programme, and mentoring school-age children and young people in STEM subjects to support the development of the next generation of energy professionals.
Media library image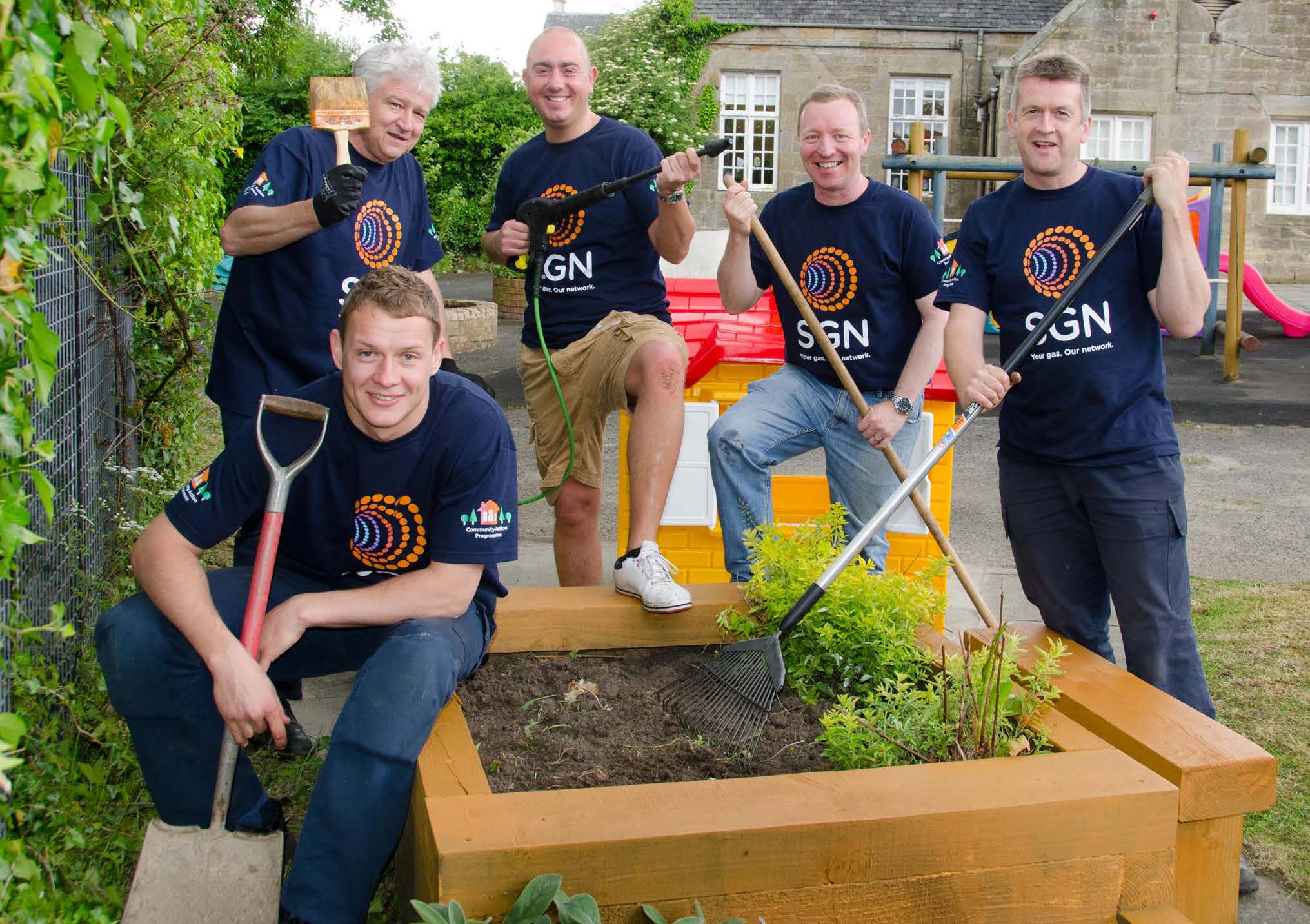 Goal 9: Industry, innovation and infrastructure
This goal aims to build resilient infrastructure, promote inclusive, sustainable industrialisation, and foster innovation.
Our Robotic Roadworks & Excavation System (RRES) is a futuristic, all-electric robot that uses artificial intelligence and radar to see underground, dig holes, and repair our gas pipes. It can cut down on traffic jams, contribute to cleaner air in our communities, and cut the carbon output of roadworks in gas and potentially other industries by removing the need for heavy construction vehicles on sites.
We're also innovating to reduce the risk of gas escapes from damaged pipes – one of our biggest contributors to our carbon footprint. We're prototyping an inflatable Stent Bag & High-Volume Gas Escape Tool that fills and seals damaged pipes from the inside. This innovation will minimise the amount of gas that enters the atmosphere, while reducing the cost of repairs.
Goal 11: Sustainable cities and communities
Making cities and communities more inclusive, safe, resilient and sustainable is the aim of this goal. Our commitments in this area include achieving biodiversity net gain across our sites, continuing our community engagement, and wider stakeholder engagement in the areas we operate.
Our new Environment Strategy aims to generate positive outcomes for wildlife and our communities by regenerating land through biodiversity projects. We'll carry out initial studies and find the best opportunities to improve biodiversity on land that we manage, whether that's by planting wildflowers and trees, creating new green space, or developing new parks. One of our most exciting project in this area, our collaboration with Napier University, is already working toward this.
We've also worked with Trinity High School in Rutherglen to increase awareness in the decline of bee populations across the UK and globally, installed beehives at our offices in Glasgow to gain data on local biodiversity, and worked with naturalist Chris Packham to turn pupils into the next generation of beekeepers. Listen to episode four of our Heat Without Carbon podcast to hear more.
And we also play our part on the environmental steering groups of the local councils in our areas, bringing our expertise to bear on energy or climate-related discussions. Our experts are involved in local steering groups in Sussex, Hampshire, Milton Keynes, Fife, Edinburgh and Glasgow. As just one example of our work, we've been helping Hydrogen Sussex coordinate activity around hydrogen in the region. This means we're able to inform local stakeholders on our work to develop the UK's net zero economy and scout for opportunities for hydrogen heating projects in the area.
Goal 12: Responsible consumption and production
This goal aims to ensure sustainable consumption and production patterns. By the end of 2021, we're committed to engaging with 80% of our suppliers (by spend) and inviting them to participate in the Supply Chain Sustainability School. The school provides thousands of learning resources on all aspects of sustainability, which our suppliers can access free.
We're also committed to achieving zero waste to landfill across most of our operations by 2025, and recycling 93% of our total materials by 2026.
Boosting the circularity of our infrastructure projects is key, and we've been taking measures like recycling polyethylene pipe recovered from excavations, working with waste service providers on new innovations to help "close the loop," and we're planning to start recycling old cones and barriers into new ones. In 2019, our Core and Vac technology helped reduce excavated material sent to landfill to 2.6%
Using clean energy in our own operations is also important to us. We've implemented a 100% green tariff for much of our electricity supply, and our plans for 2021-2026 include installing solar panels on all our owned, occupied and governor sites, and installing building energy management systems and LED lighting to increase energy efficiency.
Goal 13: Climate action
This goal urges action to combat climate change – and alongside our work to bring clean hydrogen to the gas network, our Environment Strategy is our all-encompassing action plan for becoming a net zero business. Published in April 2021, it commits to 24 programmes of activity that will cut our greenhouse gas emissions to net zero in line with the Scottish Government's target date.
We'll work every day to reduce our own environmental impact: from replacing old iron mains to rolling out zero-emission vehicles, every tonne of carbon cut counts. Find out more from Carolina Karlstrom, our Senior Lead on Environment and Climate Change, as she discusses the strategy.