Forming partnerships to help keep our vulnerable customers safe and warm.
Taking care of our customers, especially those in vulnerable circumstances, is what we do. It's part of our DNA. We're committed to delivering a 'best in class' service, tailoring the support we provide for our customers who need extra help when we are working in their homes and in their communities.
In addition to ensuring all our customers stay safe and warm, for the next five years from 2021 through to 2026 it's our ambition to support 250,000 vulnerable customers and households across our region to use energy safely, efficiently and affordably.
To achieve this ambitious commitment, we'll need to identify customers in vulnerable circumstances and get to fully understand both their current and future needs. We can then tailor our inclusive support services to those most in need and provide the help they most require. We will be looking to work with partners, organisations and charities who share our desire to make a measurable difference in the community, to empower and support customers to use energy safety, efficiently and affordably. 
Over this period, we'll be using the £16.2m made available to us through Ofgem's Vulnerability and Carbon Monoxide Allowance, to help communities and individuals most in need. We'll continue to engage and collaborate with expert partners to help maximise the positive impact we can have and find new and innovative ways to offer and deliver our help. 
If you'd like to talk about how our organisations can work together to make a positive impact in our communities, delivering innovative and rewarding projects, you can email our team at positive.impact@sgn.co.uk.    
Several new projects have already been launched with trusted partners.  
Scope's utility help desk
Where our front-line employees are called to work in people's homes, either attending gas emergencies or other gas related works they can find themselves in the homes of people with disabilities. This provides them the opportunity to identify where additional need could be met by linking that customer up to trusted support. 
Scope is a trusted support network for many disabled people and has an active online community linking disabled people to support and advice services. Many disabled people come to Scope for guidance in a crisis or for tips or advocacy services.

Our objective is to provide our disabled customers details of how to contact the Scope utility help desk in order to seek the extra support the charity offers. This advice is far reaching and includes information on how to access the utility market and safety information related to carbon monoxide.
We aim to positively engage with 5,000 disabled customers each year, building knowledge, skills and confidence in matters relating to energy efficiency and affordable access to utilities. Our team are also set up to provide practical assistance to over 1,100 customers who may be struggling to pay their utility bills. 
Warm and safe homes advice service – NEA and Wise Group
Working with two key partner organisations NEA (National Energy Action) and Wise Group, this project aims to provide independent and expert advice to vulnerable customers specifically on reducing their everyday household utility costs, helping them address debt from unpaid energy bills and looking at ways to help increase their household income. 
Both NEA and Wise group are expert in delivering independent energy advice and relevant advocacy services. The project aims to support around 1,500 customers across our regions in particular aimed at households which may be in vulnerable situations including those with customers living in fuel poverty. Our aim is to help with tailored support provisions which can improve the health, wellbeing and financial outcomes for the whole household. 
Accredited fuel poverty energy advisors are offering initial in-depth advice to callers. Those with more complex needs are passed-on to NEA's Project Development Co-ordinators who can offer more specialised advice and support.
Partnership with Age Scotland
It's often the case older people, although eligible for several energy related schemes, are unaware of the initiatives designed specifically to benefit and protect them.  
Our latest partnership with Age Scotland is designed to break that mould and reach out to our most vulnerable older group of customers, offering them real and practical help to live safely in energy affordable and warm homes.
Working together, we're training our front-line engineers to understand the challenges, better identify the needs in older people and work with a broad checklist tailored around people's individual circumstances. Through this initiative, our engineers will possess both the knowledge and resources to support an effective referral to Age Scotland, who can then offer help without delay.  
Media library image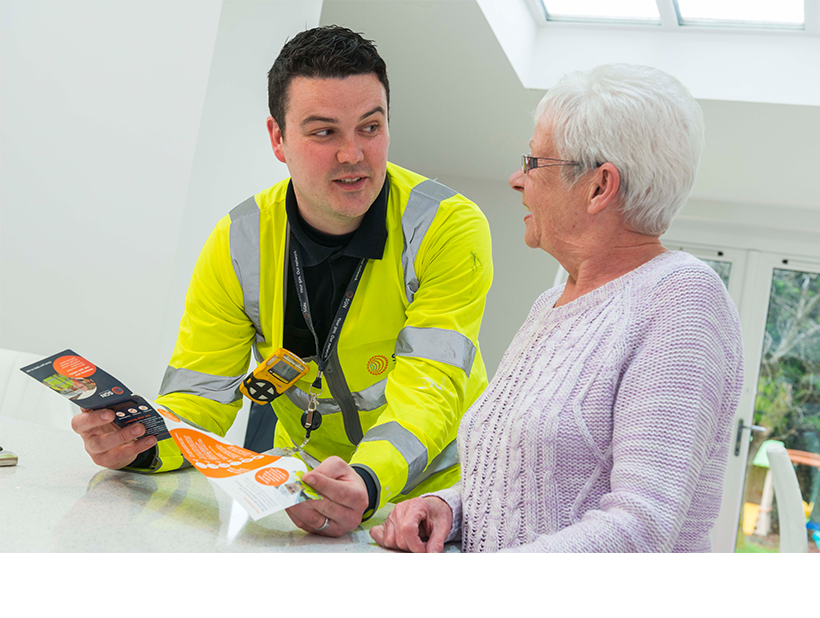 Part of this support will include increasing the householder's awareness of the real dangers of carbon monoxide (CO), and provide access to a CO alarm to be installed though an existing partnership we have with Scottish Fire and Rescue. 
It's our intention to further build on our support networks to extend this initiative into hard to reach groups including BAME communities. This will include holding Covid-secure community events, to help empower older people to use energy safety, efficiently and affordably.
We already have a good track record of working closely with Age Scotland with a successful pilot scheme highlighting the explicit danger of death from carbon monoxide poisoning to over 5,000 older people across Scotland.   
SGN care and repair
Our care and repair service is delivered in partnership with AgilityEco and is designed to provide vital help to our most vulnerable customers, replacing essential heating and cooking equipment where a customer's own equipment has been condemned. 
As a gas network company, following a gas supply interruption or as part of our emergency service role we must isolate and often condemn unsafe pipework or an unsafe, but essential, gas appliance. Our care and repair service is designed to directly help our customers through the process, from identifying next steps to supporting households that can't afford to have their appliance or pipework safely repaired or replaced. 
Once our on-site emergency gas engineer has identified the need for additional support they immediately initiate an emergency funding referral. Where there's insufficient funding from other sources (including any from national, devolved or local governments) our service enables us to step in and offer essential support to the most vulnerable households by funding any work needed. 
We developed our care and repair scheme in direct response to our engineers telling us they wanted to do more to help customers who are financially vulnerable or need help arranging a gas safe registered engineer to fix unsafe gas appliances. Now, we can provide our customers in need with access to emergency funding and help keep them and their families safe and warm.