SGN is one of the UK's biggest utility companies with a supply chain value of over £500m.
With safety, sustainability and responsibility at the heart of all we do, we're keen to establish strong relationships with our suppliers because we know how critical they are to our business.
We want to build and develop our supplier network and welcome any new engagement from suppliers who share our core values. Our simple step approach to working together incorporates the key engagement steps with our suppliers - registration, tender management and contract engagement.
The first step in building a relationship with us, irrespective of which part of SGN you wish to work for, is to register using our supplier registration system which is hosted by Achilles Information Limited. For requirements subject to EU procurement regulations, suppliers will be selected from Achilles UVDB in the United Kingdom, as this ensures you are able to work with and support our teams safely and responsibly.
Our path to working together
Media library image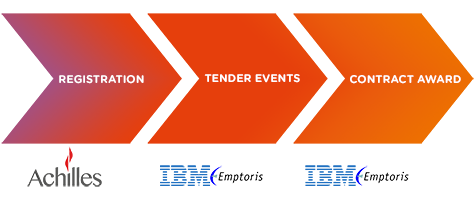 While our primary supplier selection process uses Achilles, for requirements that are subject to the EU procurement rules, tender events will be published via the Official Journal of the European Union (OJEU) and suppliers will be able to participate directly. Our procurement team leading the event will be able to advise and support you in joining the event via Emptoris.
For the second and third key steps we have introduced the Emptoris system to manage and facilitate our core sourcing process. Emptoris is a cloud-based solution enabling our procurement teams to create tender events, invite suppliers to participate, and manage contract negotiation and award. We have introduced Emptoris across SGN and have provided further information on how to use and access the system below.
More information on our procurement standards
Supplier Registration System
By registering your interest to work with us via the supplier registration system, it not only informs us of your services and products but also your commitment to our core values and objectives.
If the goods, works or services you wish to supply to us are subject to EU Procurement rules, you should also register on Achilles UVDB (UK).
Emptoris - sourcing
Emptoris is being adopted for all tender events run by our procurement teams. Our procurement teams will be using the online system provided by IBM to create and manage our tender events from initial invitations through to finalising and awarding the contracts.
We would recommend visiting the Knowledge Centre links below to find more information on the system and its use.
Via these links you can access and watch video tutorials which guide you in using the system and participating in tender events. Emptoris will send invitations to tender directly and start the tender process with you. 
There are some key points to remember:
Accept or decline invitations to RFx(s) (requests for quotations, proposals or information).
Respond to RFx questionnaires.
Bid on individual items in an RFx.
Make bespoke bids to suit your business approach (bundling, price breaks and discounting).
Have visibility (once invited to register) of all tenders, and contracts that you have or are participating in.
Dynamic Purchasing System
Construction, maintenance and replacement of gas distribution mains and services – SOUTHERN
Southern Gas Networks plc ("SGN") are a gas distribution utility regulated by the Office of Gas and Electricity Markets ("Ofgem"). SGN is seeking experienced Suppliers to assist the delivery of a range of regulatory outputs and related works predominantly over the period 2021 to 2026. The primary works activity will be the policy abandonment and replacement of underground cast iron gas mains and steel service pipes.  The majority of the mains to be abandoned and renewed will be in the diameter range 3" to 8" with a significantly smaller quantity in the diameter range 9" – 12". The mains are located in predominantly urban locations including London (South of the River Thames), the South and South East of England and operate at pressures up to 2 bar.   
In addition to the recently awarded framework agreements, SGN has created a separate Dynamic Purchasing System to support future procurements which becomes available from 1 April 2021 onwards. Suppliers should note; the Dynamic Purchasing System will be open until 2026 and interested parties can visit Delta eSourcing to access prequalification information at any time within this period. Once registered, select 'Response Manager' and within the access code box enter 'T7AD7GHG82'. This will then give you access to the Dynamic Purchasing System titled "Construction, maintenance and replacement of gas distribution mains and services – SOUTHERN". Future opportunities and communications can then be accessed by the suppliers through the Delta system.
Should you have any additional queries relating to the Dynamic Purchasing System, please contact Diane.Pirie@sse.com
Payment guidance
We're committed to the fair treatment of all our suppliers and to paying our suppliers on time. We're constantly looking to not only provide our suppliers with quick resolution of invoices but also ensure any queries or issues are managed effectively.
Invoice guidance
To help us deliver on those commitments, we ask all our suppliers to work directly with our centralised Accounts Payable team and follow these guidelines:
All invoices must be sent to the Accounts Payable team - invoices sent to business teams will be returned.
Invoices must be an individual PDF, one invoice per PDF file to enable fast processing through our systems.
Emails must include "invoice" in the email subject.
Invoices without a purchase order number will be returned to suppliers with advice on resolving the issue.
Purchase order reference: PO 16xxxxx
Company reference: SGN
Invoice email address: sgn.ap@sse.com
Invoice queries
Any invoice questions or queries can be directed to  sgn.ap@sse.com quoting 'query' and suitable reference in the email subject to ensure your query can be managed efficiently by the Accounts Payable team.