Date:
14 May 2019
Media library image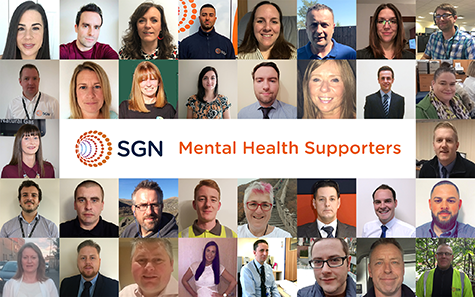 Gas distribution company SGN has introduced a team of Mental Health Supporters across the company to support the wellbeing of more than 4,000 colleagues.
We've trained 70 people on how to assist someone who comes to them for help, whether it's stress, anxiety, or generally struggling to cope. Their role is to be there for members of our SGN Family, offering support and directing them to find the most suitable source of help, such as our Employee Assistance Programme. 
In preparation for their role, all of our Mental Health Supporters have attended Advanced Mental Health Awareness at Work workshops, organised in collaboration with RehabWorks. 
Our HR Managers have all received the same training and we've also introduced ten Mental Health Awareness webinars to the majority of our line managers to help increase their knowledge and understanding.
John Morea, CEO, said: "We're committed to looking after the wellbeing of everyone in our company and a really important part of our new wellbeing strategy is to support the mental health of our people and create a supportive environment for everyone. I'm delighted we now have 70 new Mental Health Supporters who have attended workshops all over the country to prepare them for the role. We all need to change the way we think and act about mental health and with this week's Mental Health Awareness Week, it's a great time to think about it even more."
Val Scott, HR Business Partner (Scotland and Northern Ireland Operations) and HR Wellbeing Project team lead, said: "It's fantastic to see so many colleagues volunteering to become our Mental Health Supporters. The webinars and workshops have been very successful, and it's great to finally have our Mental Health Supporters available for those colleagues who may need them."
As part of Mental Health Awareness Week, we're also sharing our personal stories of struggles with mental health issues, as well as some of our coping mechanisms, on our social media channels and on our internal employee app. Like us on Facebook and follow us on Twitter @SGNgas to find out more.