Date:
31 May 2019
Media library image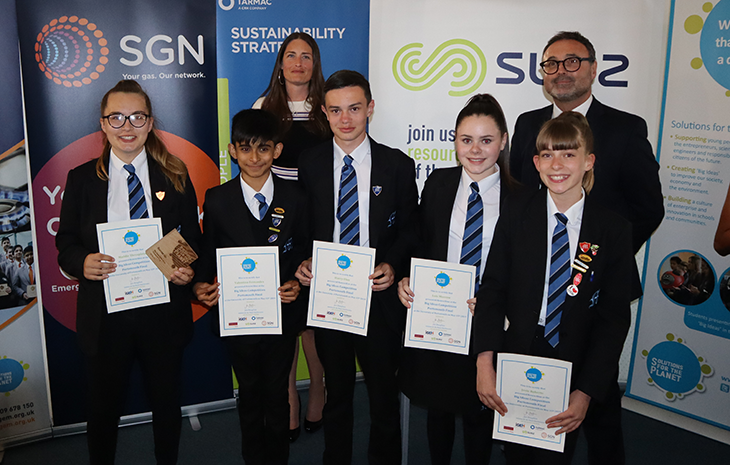 Students from five secondary schools in Scotland and the south east of England, working with mentors from across our business, have reached the final of a national competition to find solutions to key sustainability issues.
The Solutions for the Planet (S4TP) Big Ideas Competition gives pupils the opportunity to work with businesses to create ideas that could solve societal and environmental problems facing the world while exploring opportunities within science, technology, engineering and mathematics.
Mentors from SGN, Tarmac, IGEM, Brammer Buck & Hickman, Mears Group and SUEZ have supported student teams during the academic year to develop their ideas, progress their business plans and help hone their presentation skills to amaze the judging panels at each stage of the competition.
Twelve teams have made it to the National Final of the competition after a series of regional finals were held at universities and museums earlier this month. S4TP Programme Coordinators were joined by business partner employees and guest judges on the regional final judging panels, including three of our colleagues who had the tough task of deciding which teams to send through.
Our Energy Futures Manager Colin Thomson, who judged at the Scotland Regional Final at the University of Glasgow, said: "All of the ideas were fantastic and made our job as judges very difficult when it came to decide on a clear winner. From an organisational perspective, it's great to build up relationships to encourage young people to take an interest in engineering, technology and the impacts on the environment."
Glenn Norman, our Director of Operations (Southern), deliberated over presentations at the Museum of London in a South East Regional Final and said: "It was a privilege listening to all of the presentations as the passion and energy the teams displayed was infectious. Teams explored a real range of ideas that would have a positive impact on climate change for example, and they'd certainly taken on board the feedback from the previous round."
Our Solent depot General Manager Stephen Mills formed part of the judging panel at the University of Portsmouth in the other South East Regional Final. Stephen said: "Each entry was well-conceived and articulated making the final decision very difficult. Energy Gym stood out for me as their initial idea was detailed through a clear and concise business plan, coupled with some great research and enhanced with an impressive scale model of their concept. In addition to their excellent presentation, they also handled questions from the judges in a confident manner demonstrating their knowledge and research."
Five of the 12 teams who will present their ideas at the National Final on Wednesday 26 June have been mentored by SGN employees.
The Renewabus team from Mayfield School in Portsmouth have been working with our Communications Officer Dan Brown since January and Dan said: "I'm delighted that the team's efforts and ideas have been recognised by the judges. They've worked tirelessly to hone their self-sufficient renewable energy bus service idea and their knowledge and experience of presenting the first time will benefit them when they present at the Palace of Westminster in the National Final."