Updated - Wednesday 26 February
We've replaced all our old metal gas mains in Merton Road five weeks ahead of schedule and we're now carrying out reinstatement work.
Following close consultation with Merton London Borough Council and Transport for London, our project began on Monday 20 January and was originally expected to last 12 weeks. However, our engineers have made excellent progress and we've been able to finish our network upgrades sooner than anticipated. We were able to safely use a new insertion technique allowing greater lengths of our durable plastic pipe to be inserted at a time.
The traffic management measures for safety around our site while we carried out this engineering work will remain in place while we complete reinstatement. All being well, we expect to complete this work by Sunday 1 March.
Merton Road is closed to all motorists at its junction with Kingston Road for everyone's safety. Motorists looking to enter Merton Road will need to follow our signed diversion via Montague Road and The Broadway. Drivers wanting to exit Merton Road at this junction will be diverted via The Broadway, Hartfield Road and Kingston Road.
Kingston Road, Merton High Street and Morden Road remain reduced to one lane on their respective approaches to this junction.
Media library image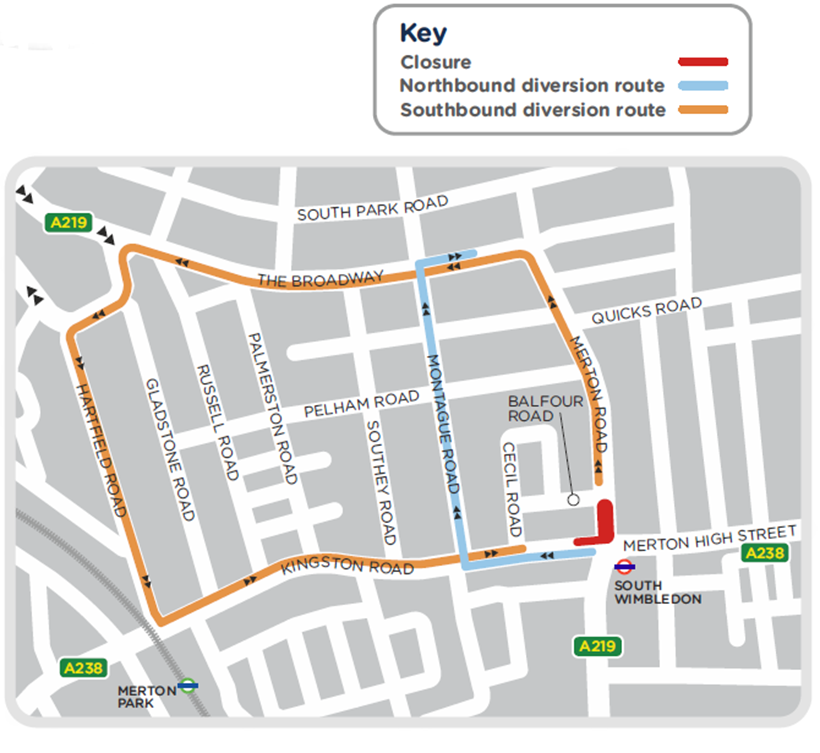 The existing traffic light system at this junction has been replaced with temporary signals. These temporary UTC lights are being controlled by TfL to help manage traffic flow and minimise congestion.
We're aware that this is a traffic-sensitive location and would advise motorists to allow extra time for their journeys, or use alternative routes, until we've finished our reinstatement and its safe for us to remove our barriers and clear site.
Pedestrian access to homes and businesses is maintained and all shops in the area will remain open as usual. Local small businesses which suffer a genuine loss of trade because of our work may qualify for our compensation scheme.
Following concerns from residents and schools, we installed signs encouraging motorists to switch off their engines while stationary to limit air pollution. The council's environment team has confirmed that air pollution has not exceeded acceptable levels for the area since our project began in mid-January.
There has been reports of dangerous driving on roads around our site. We'd encourage all motorists to follow our signed diversion routes and drive safely around our work areas. We're unable to install CCTV equipment, and do not have enforcement powers, so please contact the police if you feel someone is driving in a dangerous manner that could result in harm to others.
We understand that people can get frustrated by roadworks. However, the new plastic pipe has a minimum lifespan of 80 years. This means that when our work at the junction of Merton Road and Kingston Road is complete, residents and traders will continue to enjoy the benefits of a safe and reliable gas supply for many years to come.