As an Armed Forces Covenant Gold Award employer, we work closely with our veteran and reservist recruits to ensure they are supported throughout the recruitment process and beyond. Here, Admin Depot Clerk Ellie Gravestock shares her experience of serving in the Army Reserve while also working with us.
Media library image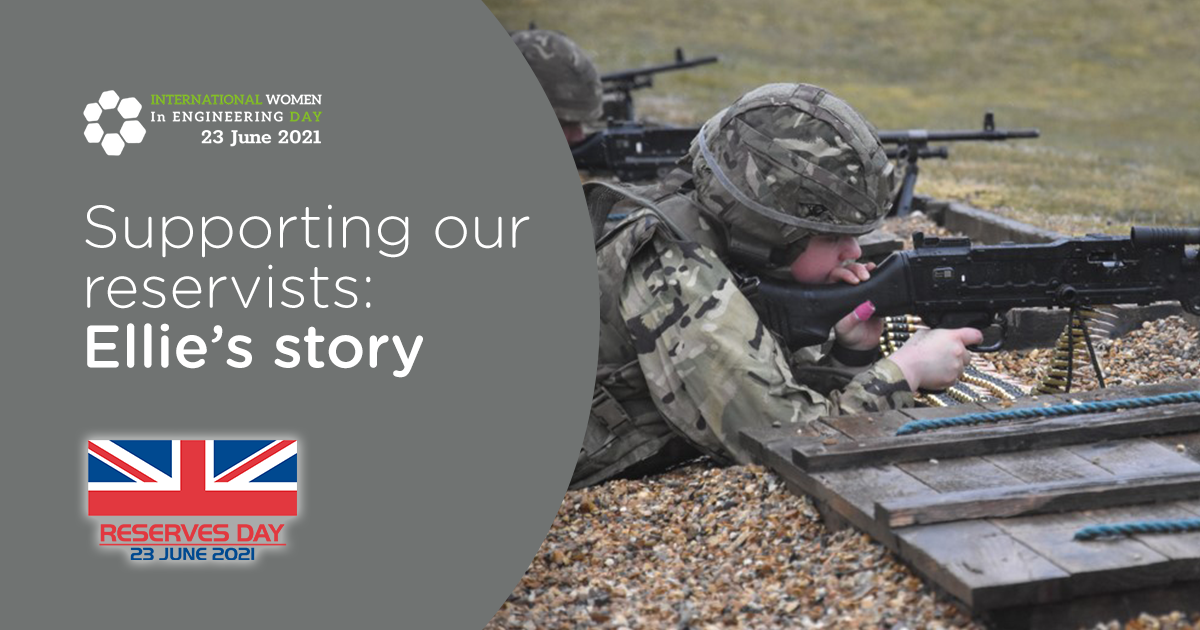 My time in the 3rd Battalion Princess of Wales's Royal Regiment
I'm a member of the 3rd Battalion Princess of Wales's Royal Regiment (3PWRR) and I'm in C Company, based in Rochester, Kent. I originally wanted to join the regular army so while at university, I joined as a reservist to see if I enjoyed the "army lifestyle". Through being an active reservist, I realised I had the best of both worlds. Being a reservist is a fantastic opportunity, and encourages a great work life balance where I can actively take part in both army tasks and keep a 'normal' civilian lifestyle. The work/life balance of being a reservist and a civilian is fantastically manageable – we train every Wednesday night and one weekend a month too.
When I first joined in 2018, I started as a Royal Army Medical Corps medic attached to the infantry battalion but having spent time training with the infantry, I realised how much I enjoy that role instead. I'm currently an infantry Private Solider and I'm in the process of completing my Combat Infantryman Course (CIC) in September to "officially" transfer over to the infantry – if I'm successful then I'll be the first female in 3PWRR to have done so.
The reserves can give you opportunities that many other things can't, even as a regular soldier. In early 2019, I became the first female medic in the British Army to successfully complete a GPMG SF (General Purpose Machine Gun Sustained Fire) Cadre. I was fortunate enough to be allowed a space on the course through being attached to an infantry battalion. Being 5ft 2 and carrying 49kg worth of equipment for a five-mile run was emotional (especially when I weigh 57kg in total) but a fantastic opportunity that I only got the chance of doing because I am a reservist.
Transferring my skills to SGN 
The main transferable skill the Army teaches you is teamwork, which is fantastic in knowing people's skills within your team and using everyone you have to your advantage to achieve your overall goal. I recently completed a Defence Teacher Training course which has enabled me to deliver information clearly and teach and understand how everyone functions in different ways. This has helped in my role at SGN with teaching colleagues and new starters, and when I'm delivering information to groups of people then I'll have better practices to deliver presentations in a clear, effective and professional manner.
Balancing commitments
During the second wave of the COVID-19 pandemic, I was selected to represent my battalion on Operation ROSE – this was based in Medway where I was working in the pop-up testing centres at Christmas throughout the whole of December. The aim was to help the Government and society to complete school term and get back to loved ones safe in time for Christmas.
I was used as a battalion asset to be working alongside regular soldiers in the Royal Engineers to help with lateral flow testing. SGN was particularly accommodating in this and very supportive – I was given three days notice to attend this deployment and my team helped me and supported covering my work in my absence, learning new roles in a very short space of time which I couldn't appreciate more. My manager understood that I am a reservist with responsibilities and helped me and allowed me to complete and fulfil my duty.
I've learned a lot in my two years here and will try my hardest to pursue a career in this industry and build on the information and competencies I've already developed. I would love to eventually apply for a Trainee Team Manager position when the opportunity arises.
I have been supported my whole time here with my army career, allowing time off as I've needed it and approving leave for me to go and do courses, and I'd definitely recommend working at SGN to any other army reservists.