Biomethane is a naturally-occurring gas with an important part to play in helping the UK cut its carbon emissions to net zero.
Media library image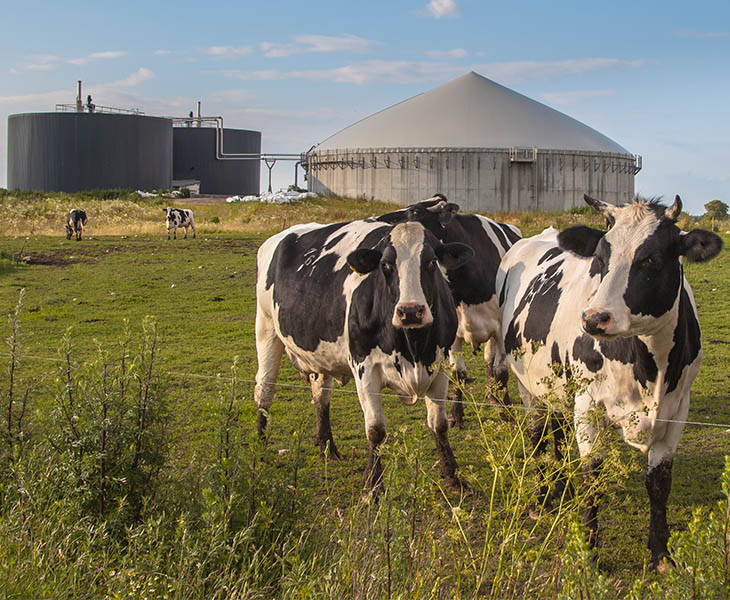 Produced when organic material – such as food waste, manure, sewage or crops – is broken down, biomethane is a natural, manageable, clean fuel that can be used for heating and cooking just like natural gas. Its deployment is particularly advantageous in rural areas, where fewer domestic properties are connected to the main gas network.
At the moment, only 2.5% of the UK's available organic farm waste is used to create biomethane, making it a relatively untapped resource of green fuel with enormous potential.
Increasing the amount of biomethane we distribute is one of the pillars of our green future vision, and we're working with a number of partners to improve network capacity for biomethane producers.
Increasing Distribution
We're committed to increasing the amount of biomethane in our network to reduce carbon emissions as we move towards a net zero future.
We've already connected 35 biomethane plants to our networks, delivering clean heat to 191,000 homes. With 11 more plants in the pipeline, it puts us in a strong position to reach our targets of 250,000 homes by 2021.
We've been working to identify and overcome the main barriers to current and future injection of biomethane on our network. To increase the amount of biomethane we distribute and reduce carbon emissions, we will:
Reduce high connection costs by working to standardise equipment.
Promote changes to regulations and codes that will lower the cost of propanation (adding propane to boost the energy content of biomethane)
Improve network capacity for biomethane producers through smarter network control, upstream compression, and technical support and solutions to bring more biomethane capacity onto the network.
 
Case Study
One of the key biomethane generators on our network is an independent Scottish distiller that supplies 3,500 standard cubic metres per hour (scm/h) of green gas.
At the moment, the regulations around gas quality for billing purposes mean that propane must be injected to enrich this green gas. Since commissioning, it's estimated that three million standard cubic metres of propane has been injected at the biomethane plant to meet the current standard, at a cost of around £2.3 million.
We're working together on proposals that would revise the spectrum of permitted gases, reducing or eliminating the addition of propane – a move that would lead to significant reductions in cost and carbon output. And by deploying new technologies like bidirectional flow metering – one of the innovative sensor systems developed under our Real-Time Networks project - we hope to significantly lower the amount of propane enrichment and make the gas even greener.