Date:
21 Jan 2020
Media library image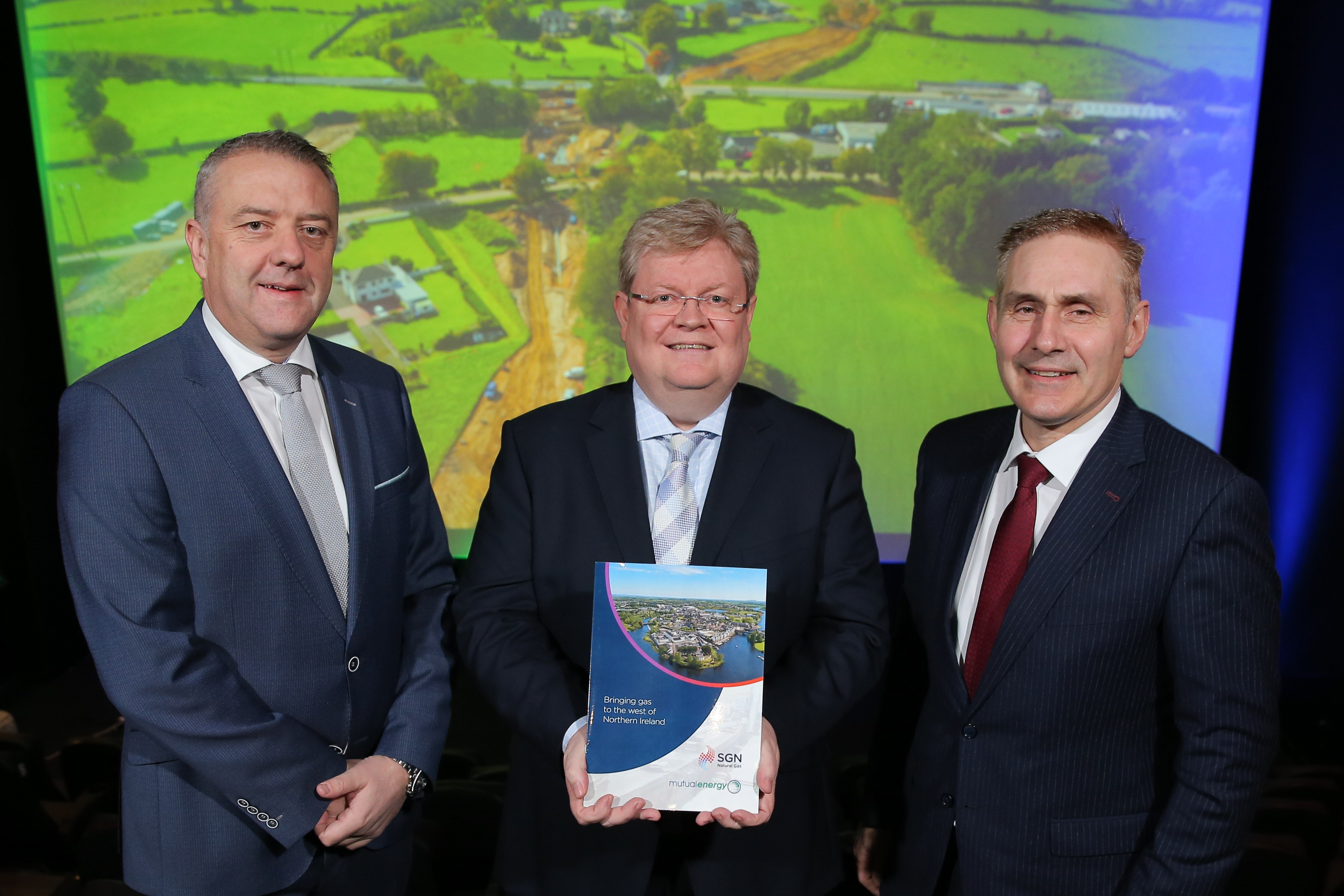 The completion of the main construction phase of a pipeline, bringing natural gas to major towns in western Northern Ireland, has been announced at an event held to thank those who have supported the successful delivery of the Gas to the West project.
Stakeholders, business partners and the local community were recognised at Thursday's (16 January) official launch event in Dungannon for their support during the £250 million project being delivered in partnership between SGN Natural Gas and Mutual Energy.
Natural gas is now available to properties in Artigarvan, Coalisland, Cookstown, Derrylin, Dungannon, Enniskillen, Magherafelt, Omagh and Strabane after the final section of the new network was commissioned in December 2019.
The delivery of the network to the towns' gateways is a major milestone for what is widely regarded as one of the most significant recent energy infrastructure projects in the region. It is anticipated that 600km of pipeline will make up the wider network area upon the project's full completion.
Speaking at the launch event, SGN Natural Gas Director Danny O'Malley said there was "exceptional demand" for natural gas and he looked forward to the growth of the network.
He said: "The project originated from a need to offer an alternative energy choice to customers in the West who have been heavily reliant on solid fuel and oil. As natural gas is the cleanest fossil fuel available, it can help to reduce greenhouse gas emissions as well as offer a more efficient fuel option to businesses, the public sector and domestic consumers.
"By enabling businesses to drive efficiency savings, we can potentially help them to be more competitive in both local and global markets. Converting to natural gas will allow businesses to significantly reduce their footprint on the environment."
Paddy Larkin, Chief Executive of Mutual Energy, which owns and operates the new high-pressure pipeline to the West, said: "This is a major, complex and strategic project which required a diverse range of skills and engineering techniques and has ultimately delivered the most efficient and cost-effective solutions for gas consumers and the wider community in the western area of Northern Ireland. We are delighted that the benefits of natural gas are now for the first time available to businesses and homes in the Gas to the West area."
Northern Ireland Economy Minister Diane Dodds said: "I would like to congratulate Mutual Energy and SGN Natural Gas, and their contractors, on their success in delivering this significant energy project.
"I look forward to the continued roll-out of new gas distribution networks in each of the eight towns in the West, eventually providing some 40,000 business and domestic consumers with additional fuel choice."