Date:
12 Dec 2019
Media library image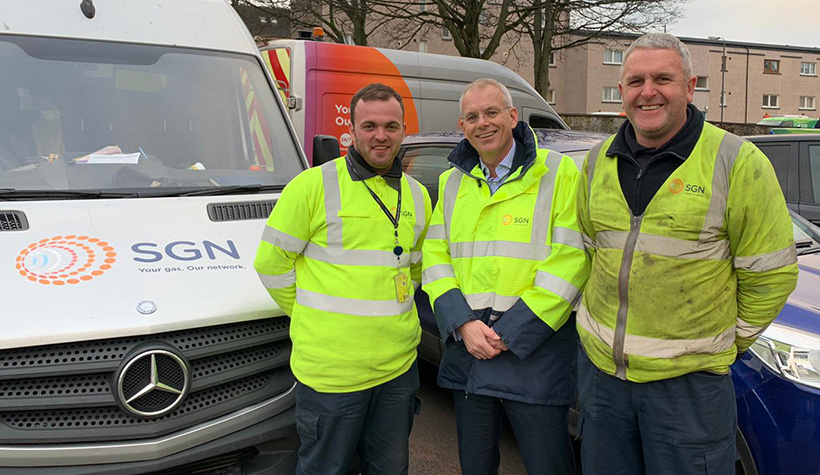 We're extremely grateful to everyone in Falkirk for your support while we worked to restore your gas supplies last week. We know it was a challenging few days without your gas supplies, but we were overwhelmed by the sense of community spirit.
From Sunday 1 December, our engineers worked tirelessly over the following days to restore gas supplies to more than 8,000 homes across the Bainsford, Carron, Carronshore, Larbert, Langlees, New Carron Village, Skinflats and Stenhousemuir areas of Falkirk.
We were joined by engineers from across the UK, which enabled us to reconnect supplies more quickly than anticipated. As well as our own engineers from our southern England depots, we were also supported by engineers from 10 other organisations including fellow gas network companies Cadent and Northern Gas Networks.
Throughout the incident, we were fantastically supported by local partner organisations and volunteer agencies, including Falkirk Council, the Scottish Fire and Rescue Service and Police Scotland, who helped us make sure the most vulnerable members of the Falkirk community have stayed safe and well looked after while they were without gas.
You will receive compensation for the time you were without your gas supply, as agreed with the energy regulator Ofgem. If you were without gas for over 24 hours, you will receive £30 compensation per household for each complete 24-hour period you had no gas. This compensation is paid through your supplier and will appear as a credit on your next bill.
In recognition of the severe weather that occurred in the first 24 hours of this incident and the additional electricity you may have used to heat your home, we will also compensate you with an additional payment of £30 as a gesture of goodwill. This will be paid along with the above through your gas supplier.
There is no need to apply for compensation as it's paid automatically. If you're not sure who your supplier is, you can find their name on the top of your gas bill. It usually takes four to five weeks for your compensation to be processed. However, it can sometimes take up to three months to show on your account, depending on your supplier's billing cycle.
Thank you again to the Falkirk community for your patience and understanding last week.
Update: 10 January 2020
We've now processed all compensation payments for affected Falkirk residents and these have been sent to your energy suppliers to be passed onto you. Your supplier will apply this credit to your next statement.
If you're not sure who your supplier is, you can find their details on your gas bill or visit findmysupplier.energy. If you've contacted your supplier and require further information, you can email us at customer@sgn.co.uk quoting 'Falkirk compensation query' and we'll respond to you shortly.