Media library image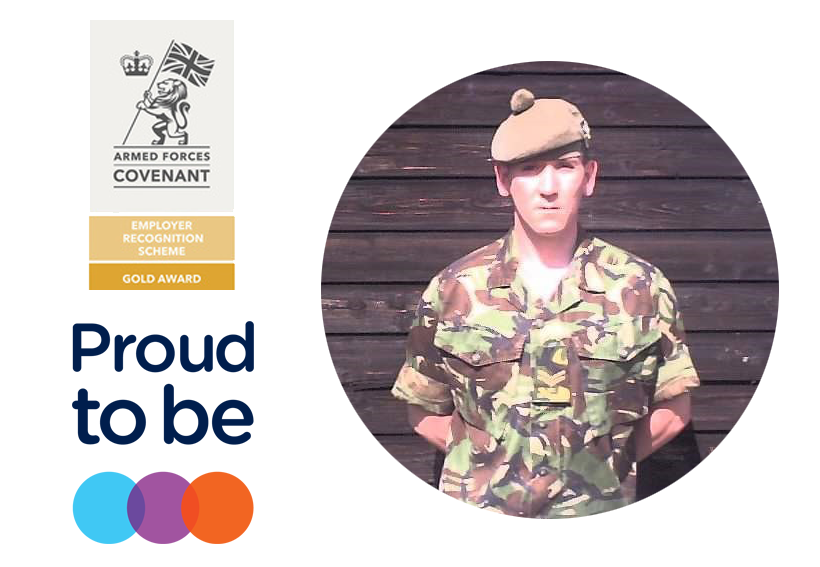 As an Armed Forces Covenant Gold Award employer, we recognise that the skills and experience gained whilst serving in our armed forces are highly valuable and transferable into many of our roles. We work closely with our veteran recruits to ensure they are supported throughout the recruitment process and beyond.
Team Manager Stuart McDonald tells us about his journey from Corporal in the Royal Scots to Repair Manager at SGN.
My time in the British Army
I joined the Army in 1990, shortly after leaving school, and served for ten years with 1st Battalion, The Royal Scots (Royal Regiment), where I was known as Corporal Stuart "Tuck" McDonald. Initially, I was infantry-based and had the opportunity to serve my country while travelling all over the world.
It's a general rule in the military that you should never volunteer for anything, but I was young and ambitious and put myself forward for opportunities whenever they came up. I completed various operational tours, including one in the Gulf and three tours of Northern Ireland. I completed exercises in America, Canada, Kenya, Belize and all over Europe. I spent six weeks at Balmoral and had the opportunity to work directly with Prince Charles and other members of the Royal Family. I was also lucky enough to attend the victory parade in New York to celebrate the end of the first Gulf war.
Life in the Army wasn't all about work – wherever we travelled in the world we were given the opportunity to take part in exciting and challenging adventure training programmes. Whether it was white water rafting in croc-infested rivers in Kenya or paragliding off the foothills of Kilimanjaro, there was something to get your heart pumping. One of the best adventure training opportunities I ever had was horse riding across the Rockies. I was also lucky enough to become a Mountain Instructor (above snow line) and Kayaking Instructor.
I had some incredible experiences but my highlight from my time in the Army was training new recruits. My last two years in the Army were spent as a Training Instructor at Glencorse Barracks; preparing individuals for their careers in the military. We worked very long hours in all conditions but seeing the transformation from civilian to combat-ready was extremely rewarding.
Transferring my skills to SGN
Unfortunately, following on from an accident in Canada, I was medically discharged. I was disappointed at the time, however, 'that's life', and the Army had equipped me with a wide range of transferable skills to be able to move on and look for new opportunities.
After leaving the Army, I had a couple of jobs but struggled to find something that I enjoyed. This changed in 2004 when I started working as a gas mains laying assistant with Morrison. I was transferred to SGN shortly afterwards.
My time in the Army prepared me well for the type of work I would be doing at SGN. I had become accustomed to working unsociable hours and in all weather conditions, and my experience prioritising safety in highly pressurised situations has certainly come in handy.
I maintained the mentality I had in the Army and put myself forward for every opportunity I was offered. I developed my skills and knowledge and progressed to Team Manager level.
Continuing developing
To anyone else who formerly served in the Army and is considering new opportunities, I'd recommend SGN as a great place to work. Before joining, I had no experience in the gas industry and for the last 16 years I've worked alongside some fantastic people and carved out a rewarding career.
The past few months, during the COVID-19 crisis, have really served as a reminder of why I'm proud to work for SGN. We took appropriate action in response to the pandemic and communicated these changes clearly. Colleagues have been consulted on matters affecting them and their work and SGN has listened to what we've had to say. These are challenging times and I'm glad to work for a company that values my safety and point of view.