Date:
29 Oct 2021
Media library image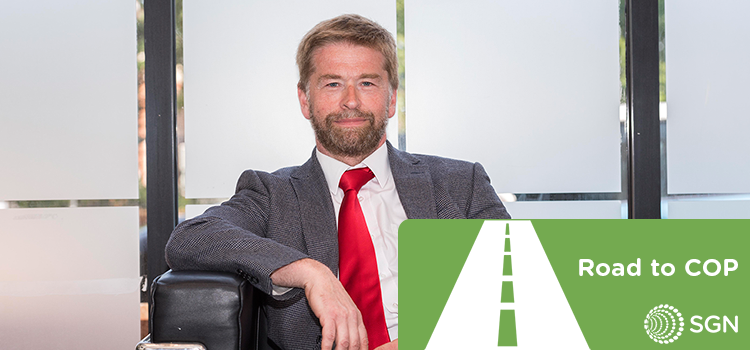 COP26 being held in Glasgow is a great opportunity for the UK and Scotland to demonstrate the leadership we have shown on climate change. While there is still uncertainty and a long way to go, we've achieved some fantastic progress and have clear route maps developing on transport, industrial and domestic heat. But we can't rest on our laurels.
In April this year, we launched our Environment Strategy: SGN's business blueprint for reaching net zero greenhouse gas emissions by 2045. Based around five pillars demonstrating our long-term environmental ambitions, the strategy will help reduce our emissions as we work to develop a world-leading green gas network powered by hydrogen.
While the strategy was launched in April this year, we've been on the journey to net zero for over a decade.
In 2010, we connected the UK's first biomethane plant to the gas network and have pioneered the carbon capture plan for biomethane. We co-own nine biomethane plants ourselves and have connected around 35 more merchant projects. Having delivered the equivalent of 250,000 decarbonised homes this year, we're targeting to deliver clean green gas to 450,000 homes by 2026.
This year, we've moved into the heat networks market. They are a part of the pathway to decarbonised heat and by 2030, the domestic heat market could have around 1.5 million homes and this could rise to 5 million by 2050.
We believe hydrogen has a critical role to play in delivering zero carbon homes at scale. We'll be at COP26 showcasing our H100 Fife project, a world first trial which will deliver green hydrogen to heat customer's homes in 2023. It's a project we're really excited about and hope will bring focus and attention to the decarbonisation of heat agenda. It's part of an industry-wide R&D programme which we'll deliver to BEIS, setting out the evidence base for distributing hydrogen rather than methane in the gas networks.
Media library image

The UK Government has done a good job overall in developing the hydrogen strategy in the past 18 months. However, I think there is scope and need to raise our ambition for hydrogen production beyond the 2030/5GW target that has been set out. Industry has said it can deliver three or four times that by 2030, so I think government should set a challenge to go to 15GW or even 20GW hydrogen production by 2030. Not only will this help fast track our ability to deliver net zero, it would also position the UK as one of the leading global industrial players on hydrogen.
Any vision for the energy sector must keep the fundamentals of the energy trilemma (finding a balance between security, affordability, and sustainability) close. If we lose customers on cost or security of supply, we will undermine progress to net zero.
In terms of domestic heat, we need a national effort to sort out the problem of poor thermal performance of our homes, then we can deliver technology that works for customers, the homes and the circumstances they live in. As we've seen over the last few months, we also need to look at our gas and electricity markets with a global lens and have a serious conversation about energy storage, whether that's – inter day, seasonal or strategic.
We need to move on from the debate of which technology will "win" to understanding what customers want and really figuring out how do we deploy zero carbon solutions to 25 million UK homes at pace. One fuel source will not be enough to get us to net zero. We are going to need a more flexible energy system that works on a whole system basis.
The scale of the engineering and logistical challenge to decarbonise heat is huge. But there is an emotional and engagement challenge here too. Whatever the route we take – we must work hard to protect the most vulnerable in society. There are some key decisions for industry, regulators and all levels of government to take and everyone has to consider the impact on vulnerable customers, and how we mitigate any risk on them.
The changes delivered over the last 10 – 15 years have been significant, though not all have been predicted and foreseen. So, we need to keep all our options on the table as we work through the transition.
This will be the first-time government has asked customers and the public to genuinely buy into a level of change and disruption that for the majority won't be on their radar. So, we'll have to work collectively to raise the profile of the changes to come.
Forcing technological change onto customers has rarely, if ever, been successful, and we must keep customers at the forefront of our plans. We need to be clear what it is they value – an ability to choose what is right for them and their lifestyles, giving control of their own energy use, when and how they want it, at a fair price that they can afford.