Date:
05 Jun 2022
Media library image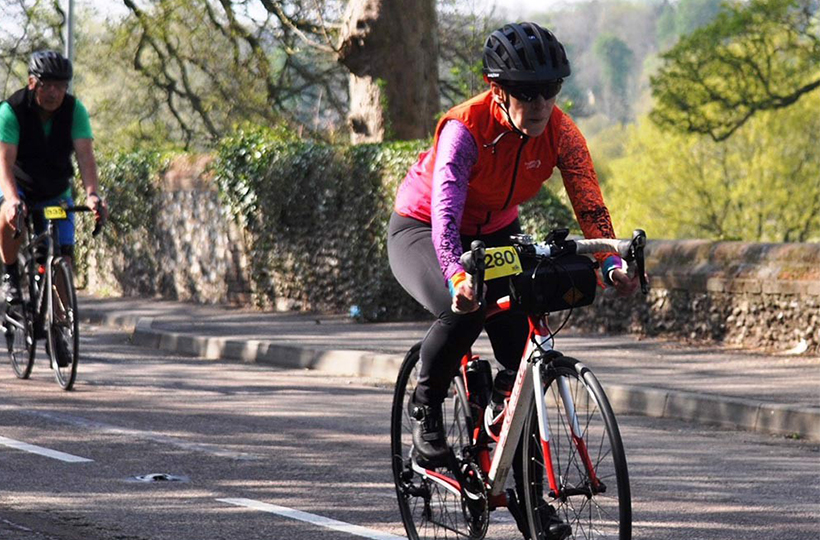 Sunday 5 June 2022 is World Environment Day and we're celebrating an incredible feat of endurance our Head of Sustainability, Carolina Karlstrom, is taking on to raise money for Renewable World.
This is a story about mental health and about helping others, as well as the climate crisis and building resilient communities.
One in four people will experience a mental health problem of some kind each year according to mental health charity, Mind. Like many people, I have experienced mental health problems.
I have also built a strong foundation for myself through exercise, meditation and knitting (and support from those closest to me). These activities help me not only cope, but even thrive, and cycling has helped me get even stronger, both mentally and physically.
It's an adventure every time I go out on my bike. I get to experience new places; villages, rolling hills, flowering fields (aren't the rapeseed gorgeous at this time of year?!), hear wonderful birdsong – and I'm using pedal power to do it!
Recognising that there are people worse off than me and being able to help them, is also helping me. For many years I've been a supporter of Renewable World, a small charity based in Brighton, who help vulnerable people in developing countries to a better life. They provide energy, water and clean cooking solutions to people in Nepal and Kenya.
At the end of last year, I was elected a Trustee of Renewable World. I'm very proud about the impact we have and the work we are planning over the next few years to change even more people's lives and give them hope of a better future. I'm supporting Renewable World who help provide energy, water and clean cooking solutions to people in Nepal and Kenya.
On 11 June, I'm going to be taking part in Renewable World's flagship event Earth, Wind and Tyre, cycling 108 miles (173km) to raise vital funds for their work.
For me it's a double whammy:
I have to practice a lot of cycling to do this, getting mentally and physically stronger by the mile.
The money I raise will go to amazing projects where vulnerable people (who often are women and girls) can access electricity for health, get water from a pump without having to walk for hours, can grow food and sell this to lead more sustainable lives. I'm doing this for them and for me.
I'm close to raising £200… and if I get to that total, Renewable World could construct a menstrual pad disposal system at a school, to ensure that girls feel happy to attend school while on their period. This would be at a school where we are also making sure everyone has good access to water, decent toilets and handwashing facilities. That's certainly worth cycling 108 miles for!
If I can raise £400, Renewable World could establish an agricultural demonstration plot in one community, to promote the cultivation of climate-resilient, high-value and nutritious crops. These sustainable and climate-friendly farming activities, once adopted by community members, will improve their food security and income-generating capacity.
It's a big challenge! Last year I cycled 100 miles throughout the month of June. This year I will do it all in one day. And my partner keeps reminding me: "Look at the view, not at the hill".
If you'd like to support my epic challenge for a fantastic cause, you can by visiting this link here.
To find out more about Renewable World's amazing work, please visit their website.