Date:
22 Apr 2022
Media library image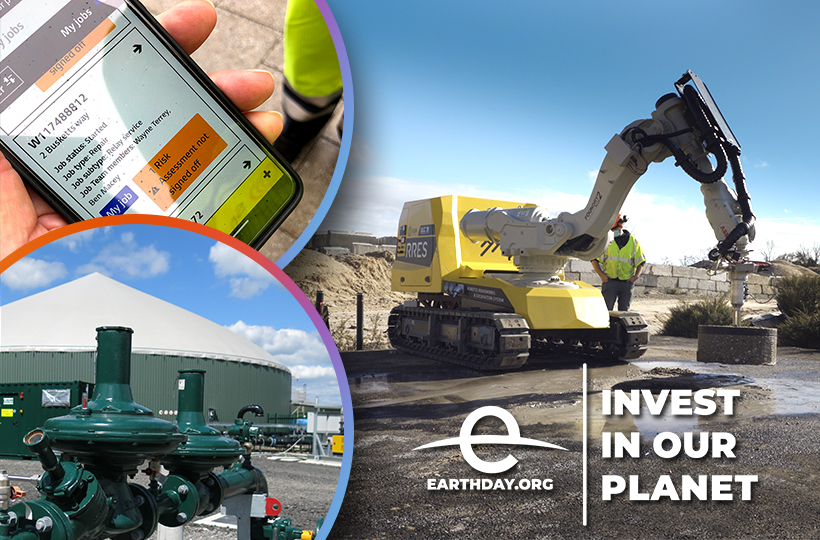 Innovation is at the heart of SGN and we're proud to invest in a range of projects to drive efficiency and cut emissions. With World Earth Day's theme for 2022 being 'invest in our planet', it's the perfect opportunity to showcase how we're doing exactly that.
RRES
Our Robotic Roadworks & Excavation System (RRES) is a futuristic, all-electric robot that uses artificial intelligence and radar to see underground, dig holes, and repair our gas pipes. It can cut down on traffic jams, contribute to cleaner air in our communities, and cut the carbon output of roadworks in gas and potentially other industries by removing the need for heavy construction vehicles on sites.
We're also innovating to reduce the risk of gas escapes from damaged pipes – one of our biggest contributors to our carbon footprint. We're prototyping an inflatable Stent Bag and High-Volume Gas Escape Tool that fills and seals damaged pipes from the inside. This innovation will minimise the amount of gas that enters the atmosphere, while reducing the cost of repairs.
Biomethane
We're committed to increasing the amount of biomethane in our network to reduce carbon emissions as we move towards a net zero future. It's a naturally occurring gas produced when organic material – such as food waste, manure, sewage or crops – is broken down. Biomethane is a natural, manageable, clean fuel that can be used for heating and cooking just like natural gas, and right now we have several projects in progress that are increasing the amount of biomethane in our network.
We currently have 42 biomethane plants connected to our network. The connection of the latest 11 plants enabled us to exceed our target and supply 254,256 homes by the end of March 2021, putting us in a strong position to reach our target of supplying 450,000 homes with biomethane by 2026.
We've been working to identify and overcome the main barriers to current and future injection of biomethane on our network. To increase the amount of biomethane we distribute and reduce carbon emissions, we will:
Reduce high connection costs by working to standardise equipment.

Promote changes to regulations and codes that will lower the cost of propanation (adding propane to boost the energy content of biomethane)

Improve network capacity for biomethane producers through smarter network control, upstream compression, and technical support and solutions to bring more biomethane capacity onto the network.
FYLD
By industry workers, for industry workers: that's the secret to the success of FYLD, a digital on-site safety platform that won Emerging Tech of the Year at the UK IT Industry Awards in 2020.
The digital platform is improving the safety and efficiency of our field-based teams, replacing several on-site activities and enabling engineers to make data-driven decisions in real-time. The technology uses AI to convert video and audio footage into digital risk assessments and analytics dashboards that reduce risk and the time taken to complete assessments.
Engineers, team managers and operational support functions worked with the product development team at FYLD to collaboratively build the platform. Now applied across all depots, FYLD has been put to work on more than 27,000 jobs, with video risk assessments used in 90% of those. FYLD has helped to increase the number of company safe days and reduce the time taken to complete risk assessments by 64%. 22% of a field worker's day used to be spent preparing paper-based reports – FYLD gives them that time back. And because risk assessments can be viewed remotely and shared with managers, they can sign off measures without travelling to site, contributing to a saving of £1.4 million and a much reduced environmental impact.
Find out more about how we're using innovation as part of our Environment Strategy in our 2021 report, Our progress and commitments towards the United Nations Sustainable Development Goals.