Date:
03 Nov 2021
Media library image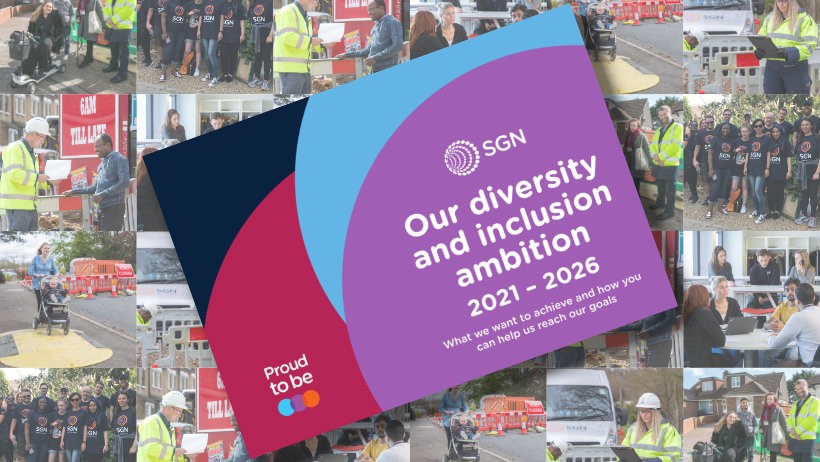 We're proud to be launching our diversity and inclusion ambition; our statement of commitment and blueprint for action, outlining the steps we'll be taking as we continue our D&I journey in the GD2 price control.
Our D&I ambition sets out how we plan to build on the strong foundations already laid in GD1 to achieve greater diversity within our workforce and strengthen inclusion throughout our workplace.
Reflecting back on our D&I journey so far, there's lots to be proud of: from making enormous strides in the collection of our diversity data to developing a suite of policies, guides and resources, establishing valuable partnerships, achieving important accreditations and gaining the support and involvement of so many of our people.
However, we know there's still a lot of work to do.
As part of plans to build a more diverse workforce, we're committed to:
Embed inclusion in our recruitment processes, including a requirement to have diverse interview panels

Taking targeted action to address underrepresentation, such as our partnership with the Greater London Authority Workforce Integration Network Design Labs

Delivering targeted programmes to support the development of underrepresented groups
We want our people to have the confidence to be themselves and give their best day after day. Our plans for building a more inclusive workplace include:
Creating opportunities for colleagues to directly influence inclusion activity through a series of employee-led inclusion networks

Adopting a zero-tolerance approach toward bullying and harassment, with a review of our bullying and harassment policy to ensure robust and appropriate sanctions

Embracing flexible working and being more responsive to the needs of parents and carers

Evaluating our employee lifecycle to identify opportunities for greater inclusion with an audit of processes to identify and eradicate bias hot spots
We'll also ensure leaders role model inclusive behaviours and adopt inclusive practices instinctively. We'll achieve this by:
Ensuring Executive-level involvement and promotion of D&I, holding workshops with directors twice a year to review D&I data and actions

Ensuring leaders are held accountable for advancing D&I by making sure leaders' objectives are aligned with and support the delivery of our D&I ambition

Partner members of the Executive Committee with colleagues whose backgrounds, experiences and characteristics are different to theirs to promote diversity of thought in our 'different perspectives' programme
John Morea, CEO of SGN, said: "We've got ambitious plans for GD2 and if we want to lead the way in energy delivery, we need the right people to help us get there. Attracting and retaining diverse talent is critical to ensuring our continued success.
"We're innovating for a brighter future for our network and we need the diversity of thought and experience that will help us to continue to fuel innovation and to deliver value to our colleagues, customers and communities."
You can read our diversity and inclusion ambition in full below.