Date:
15 Dec 2021
We held a virtual event with members of the Scottish Hydrogen and Fuel Cell Association (SHFCA) to share our plans for an accelerated pathway to 100% hydrogen in Scotland.
Around 80 SHFCA members and other key stakeholders from government, industries, utilities and organisations throughout Scotland attended our virtual event today to learn more about our plans to transform Scotland's gas network to deliver hydrogen to homes, businesses, industry, transport and other sectors.
Scotland's gas network provides heating for 80% of Scotland's 2.5 million homes and 41% of commercial and industrial energy demand. Continuing to use the network will mean replacing natural gas with low and zero carbon green gas sources like hydrogen.
Energy Futures Project Manager Phil Bradwell said: "Switching a large proportion of homes and businesses to hydrogen, which doesn't produce carbon when it burns, is a natural and pragmatic step forward. It would provide a substantial contribution to meeting Scotland's ambitious 2030 and 2045 climate targets bringing investment, jobs and opportunities.
"Hydrogen also offers people control over the temperature in their homes and the instant warmth they have come to expect from their gas supply.
"We're thrilled with the attendance at today's event and would like to thank all our guests for attending to learn more about our vision for hydrogen and for sharing their valuable feedback."
Nigel Holmes, CEO of SHFCA, added: "Today's event provided key insights from SHFCA members, SGN and Wood on the accelerated pathway for hydrogen to take a prominent role in decarbonising heat across Scotland. This prompted strong interest from the participants who represented the full spectrum of our SHFCA membership including industry, universities, colleges, city authorities, and development agencies."
Earlier this year, engineering design firm Wood conducted research which was commissioned by SGN to establish the feasibility of delivering an accelerated pathway for hydrogen in Scotland and the potential to convert large areas of the gas network to 100% hydrogen by 2030.
The report, which was presented by Phil and Jonathan Marriot from Wood to SHFCA members, also outlines the practical steps needed, including a case study on the potential conversion of a city the size of Aberdeen. This would mean converting a large portion of homes and business and the largest industrial carbon emitters in Scotland's north-east and central belts to 100% hydrogen. To put it into context, these industrial clusters emit 11.9Mt of CO2 every year, the equivalent CO2 of roughly all the cars in Scotland.
Media library image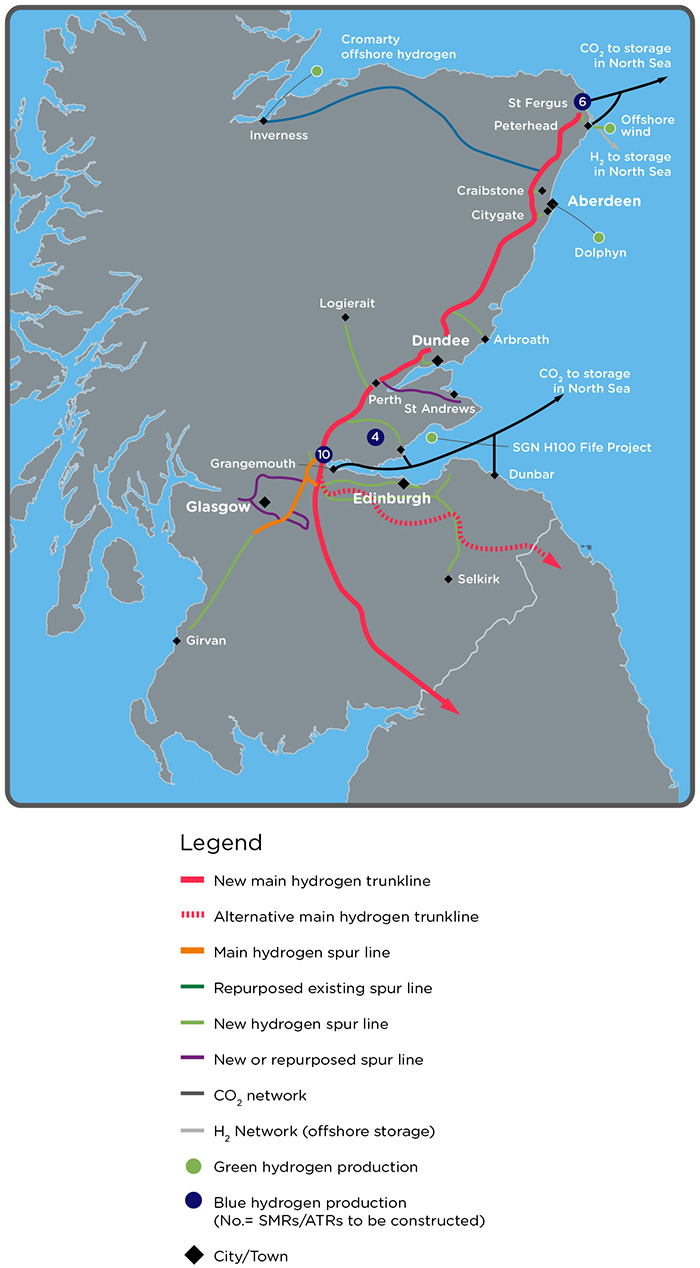 Our guests took part in some polls during our event about hydrogen and its role in decarbonising energy. Here 's what they told us:
Media library image