Date:
30 Jun 2021
Media library image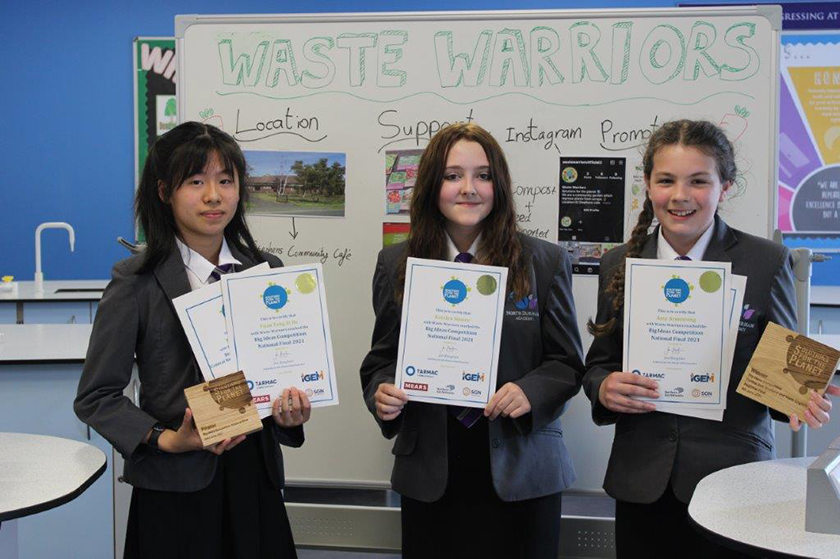 A team of secondary school students mentored by our people have been commended for their presentation in this year's Solutions for the Planet Big Ideas Competition National Final, held virtually on Wednesday 23 June.
The Eco-Warriors team from Saint Gabriel's College in London were praised by the judging panel for their incredible use of graphics in their presentation and had demonstrated excellent networking skills for their campaign to encourage residents to recycle throughout the week.
The Big Ideas Programme gives young people a chance to, with the support of volunteer business mentors, create and develop Big Ideas that could solve societal and environmental problems facing the world, while exploring opportunities within science, technology, engineering and mathematics.
In total, thirteen teams backed by business partner mentors from SGN, Tarmac, IGEM, Mears Group, Northern Gas Networks, and other local partners, presented their ideas and business plans to the judges, MPs and industry experts after progressing from the various regional qualifiers.
The Competition was won by Waste Warriors from North Durham Academy. The team amazed judges with their idea to tackle food waste through a community garden where food is grown from produce that would otherwise have been thrown away, and which is then returned to those who donated it in the first place.
Other ideas submitted included constructing a new device that can suck plastic from our seas and even creating dog toys out of recycled paper mâché!
Our Insight & Stakeholder Research Manager Ged Egan, who mentored students at Saint Gabriel's College during this year's programme, said: "It's been brilliant working with such a talented group of young people who are genuinely passionate about helping the environment. I've thoroughly enjoyed engaging with them and listening to their ideas on the sustainability issues that are most important to them, and I can't wait to see all their creative ideas progress beyond the competition."
We've been inspired by the dedication and talent displayed throughout this year's partnership with Solutions for the Planet in challenging circumstances with the effects of the coronavirus pandemic. All the teams who reached the final stages of this year's competition can be very proud of their efforts, achievements and unique ideas.
S4TP CEO Jen Baughan said: "We encourage and nurture creativity, curiosity and collaboration in young people and their business volunteer mentors. Our ambition is to blend sustainable community and business benefit, and everyone involved knows they are part of something bigger than themselves.
"The Big Ideas Competition 2021 National Final was an incredible showcase of these ambitions being realised. Continued engagement and investment from businesses in to support their future people and the planet is critical, and my deepest thanks go to our current business partners for making that investment this year."