Date:
11 Jun 2021
Media library image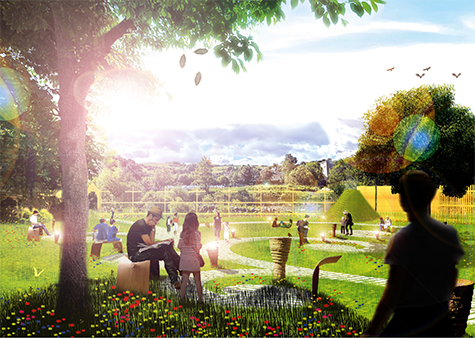 Students teams from Edinburgh Napier University showcased their proposals to reimagine six of our Scottish-based sites for a more sustainable future.
This collaborative project gave the teams an opportunity to create plans to develop SGN-owned land to respond to climate change adaption and help improve biodiversity, wellbeing, community engagement and inclusion.
The proposals were presented in a virtual session to a panel of academics, external experts and our very own industry professionals. The eight teams demonstrated their plans to reimagine our Armadale, Glenmavis, Hamilton, Hawick, Irvine and Paisley sites through blogs, videos, presentations, exhibitions and marketing materials.
Blue-sky thinking by the teams led to a variety of creative proposals being developed. Ideas ranged from constructing vertical farms to establishing hedgehog houses, and from creating spaces that celebrate diversity and inclusion to sites that recognise the area's heritage and traditions. 
Many of the communities we live, work and operate in have declared climate emergencies. This project responds to the environment and climate emergency crisis and we will use the fantastic work carried out by the students as inspiration for and likely in some cases a direct implementation of ideas to improve the estate that we manage. We're committed to building a shared net zero future and improving our environmental impacts as well as socially benefitting the communities we serve.
Our Senior Business Lead on Environment and Climate Change Carolina Karlstrom said: "We're driving to achieve net zero carbon emissions by 2045 and it's been fantastic to work with talented future change makers at Edinburgh Napier University to reimagine fossil fuel spaces for good.
"The ingenuity of the students has perfectly exemplified how environmental and community action go hand in hand to help reach important shared local and global goals."
Ruth Cochrane, Enterprise Lead within the School of Arts and Creative Industries at Edinburgh Napier University, said: "We set out to have students from different disciplines working together to create transformational learning experience and we've certainly achieved that.
"What I didn't anticipate was finding a new way for academics from across the university to collaborate with professional services colleagues and an external partner so effectively! This project has created strong networks that didn't previously exist, and we now know that we can build more amazing projects as a result."
SGN Environment Advisory Panel Chair Kathryn Dapre, said: "The solutions presented by the Napier students were fantastic and showed true innovation. The sites they were asked to consider were difficult in terms of size, location and geometry, but some truly inspiring ideas were presented that showed clever use of space, improved biodiversity, and potential for community engagement."
Biodiversity improvements is one of the five key pillars in our Environment Strategy. Our activities to enhance biodiversity and thereby provide benefits to local communities are ongoing and will continue to evolve over the next five years and beyond – not only at the six Scottish sites mentioned here but, across both our UK networks. 
We'll continue to work with Edinburgh Napier University and the student teams to incorporate some of the fantastic suggestions submitted as site developments takes place.